Buying real estate in the Bahamas.
With it's white sand beaches and clear blue waters, buying real estate and property in the Bahamas have never looked so good.
If you are considering buying Bahamas real estate as an investment property or as a vacation home, you could face lots of unique challenges.
Here are a few tips that can help you avoid the possible pitfalls and problems involved with buying your dream home or property.
As with any real estate purchase anywhere, the first and most important rule is.....
Location, Location, Location.Nassau and Freeport (Grand Bahama)
When buying Bahamas real estate, it is very important to chose the location of the property carefully. On the main islands of New Providence (Nassau) and Freeport on Grand Bahama, house prices can be more than double those in nearby Florida. These islands tend to have very good infrastructure and lots of facilities, but they are also more populated, and tend to seem somewhat overcrowded.
If you are searching for an investment property in the "heart" of the Bahamas, the main islands of Nassau, Freeport GB, may be a good choice.
Other locations, the Out Islands.
The Out Islands, or Family Islands as they are also known, have houses and property which tends to be much less expensive, on these islands however, accessibility could be an issue. If you are looking for a vacation home to serve as a "quiet retreat", you may want to consider buying real estate on one of the Family Islands.
Currently, the Out Islands do seem to be in fashion, with lots of new developments springing up in practically all Out Island locations.
A new beach and golf development at
Winding Bay
, on the island of
Abaco
, attracted property buyers from all points of the compass, the resort, however, very quickly sold out with the exception of two remaining building lots, these lots are available at
$4.5 million per lot.
See
Abaco estate services
for more details about these properties.
Exuma.
Stretching from Nassau all the way down to Long Island, Exuma is one of the southern Out Islands which also has two recent developments, both the resorts of
Emerald Bay,
and
February Point
offer marina and golf facilities to buyers of lots and property on their developments.
Links to real estate agents websites for both resorts are here.
Emerald Bay.
A Southern Bahamas golf and marina resort.
Building lots are available at the Emerald Bay resort, with prices for marina lots (with shared dockage) at
$6.5 million.
And,
February Point.
Another Southern Bahamas marina resort, with golf course access via membership with the Emerald Bay resort.
Available marina building lots at the February Point resort are
$1.6 million.
New marina and golf resorts in the Bahamas.
Long Island.
The new marina and golf resort of
Port St George marina
, is planned for the
Stella Maris
area of
Long Island.
Plans are well under way for a huge new marina and canal complex, together with a championship golf course built around a natural and man made lakeside community. See
Port St George marina.
Southern Bahamas, marina, canal, golf and lakeside resort development.
It is worth remembering that the
Long Island
development of
Port St George
is a mere 30 miles away from the two
Exuma
projects mentioned above, and with building lots starting at around
$500,000
a virtual stampede is expected when the lot release for this project is made public.
Mayaguana.
A development plan has been submitted for a new marina on this island, however, this project has attracted lots of criticism from both political and public areas, as the proposed development involves the use of only "Crown" or "public" land. With the recent change in government the future of this marina development looks very doubtful indeed. Unless a developer can be found who will actually purchase the needed land, it looks as though Mayaguana may stay a quiet "backwater" after all.
View Several Properties.
Do not buy the first property you are shown. Once you have pinned down a location, view several properties in the community to get a good overall picture of the market. When you find the right property all the leg work will have been worth it.
Inspect The Property.
Do not take anything for granted. Have a certified professional inspect the property, and go over the inspection report carefully.
Consider The Hidden Costs.
So, you finally managed to find that perfect little beach front home in the Exumas, and all for the bargain price of $200,000. Well, just be aware that tax-haven or not, that price could rise significantly. While it is true the Out Islands do offer some excellent real estate opportunities, especially for sailing enthusiasts, just like everywhere else on the Bahamas, you have to pay stamp duties taxes and registration fees there as well, keep this in mind.
Bahamas Infrastructure.
As the worlds 10th leading financial center, the Bahamas has a solid infrastructure in place. The Bahamian government has spent tens of millions of dollars on infrastructure improvements since the early 1990s, resulting in modern telecommunications and transportation networks, as well as excellent medical facilities. For high tech businesses, and private home owners too, the Bahamas offers high speed fiber optic links with broadband Internet available on practically all islands.
The Bahamas boasts some 3,500 kilometers of well developed roads and highways. The island also has 23 seaports, allowing for regular shipping connections to the Americas and Europe. Furthermore, the Bahamas has six major airports that are served by various international airlines, allowing direct flights to and from key destinations in Europe, North and South America and the Caribbean, with connections worldwide. Scheduled domestic flights by the national airline, Bahamas air, link the island chain while also providing scheduled service to Florida. Charter services are available to all islands and all parts of the archipelago.
The last item here. Hospitals and medicine.
he Bahamas offers several hospitals and clinics. The Princess Margaret hospital on the island of New Providence is the largest one of these, it provides a good range of specialist facilities. Two smaller private hospitals, Doctors Hospital and Lyford Cay Hospital, also offer specialized medical treatment. Hospital facilities also exist in Freeport. Resident medical practitioners provide health care on the Family Islands.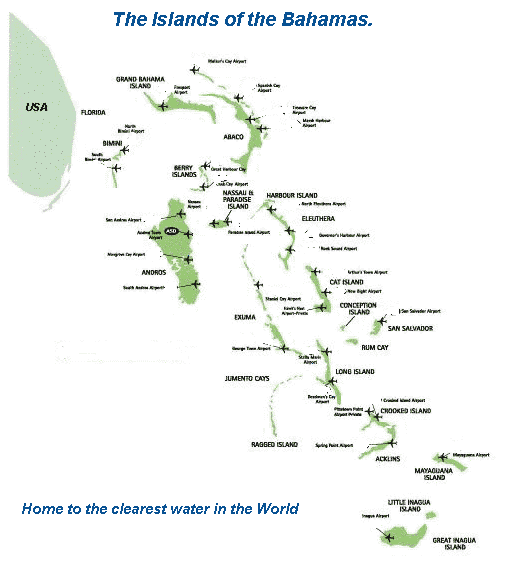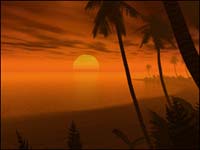 Cocktail time on the Out Islands.
Travel and transport, getting around the islands.
The fastest way to travel between islands is, obviously, by plane. Bahamas air serves Great Bahamas and lots of the Out Islands. Most flights go to and from Nassau, so you may find yourself having to return to Nassau in order to fly to other islands. A more, direct and efficient method is to charter an aircraft, this is not as expensive as you may imagine, lots and lots of both tourists and business people charter planes daily.
A more relaxed way to see the islands is by "island hopping" and travel by sea. Bahamas Fast Ferries is the only high speed ferry in the islands. It links Nassau and Eleuthera and various other islands. Other smaller ferries are sometimes slow and sometimes a little unreliable, but quite often these ferries can prove a very interesting and relaxed way to see lots of different islands. It is also quite easy to find yachts for hire, and enjoying the sea from the helm of a sailboat is one of the most pleasurable forms of travelling these beautiful islands.
There are a number of all inclusive resorts and
Bahamas packages
to help you save on your travel.
So book your trip today and see what makes the islands of the Bahamas the perfect destination for your next real estate investment!
Helpful links to other Bahamas and Out Island sites.
General Caribbean and Bahamas site.
Lots and lots of useful information about the area, info on Nassau, the Out Islands, real estate, marinas, golfing and lifestyle, with links to lots of other Caribbean and Bahamian sites.
Bahamas land values.
Land values in the Bahamas.
Bahamas property lots for sale.
Lots, land and property available in the Bahamas.
Long Island Bahamas.
The new marina and golf development of Port St George.
Bahamas property prices.
Island wide guide to current property prices.
Golfing Bahamas.
www.Golfingbahamas.com
Bahamian golf courses, lots of info here for both the golf pro and non golfers, marina developments, new resorts, boating, fishing links, sailing pages etc.